From my initial meeting with Jasmine, I knew she was the perfect match for our wedding. She was able to create a design proposal that clearly outlined the exact aesthetic for our big day. She is extremely organized, knowledgeable and made my entire wedding planning process a breeze. I am so thankful for all of the meetings she attended (florist, furniture rental etc). She is always quick to respond and was able to answer any questions that came up. From start to finish, my wedding day went seamlessly thanks to Jasmine and her team!
Jasmine is amazing! We were instantly comfortable with her upon our first meeting. She is the ultimate professional, organized and so kind.From the moment Jasmine stepped in at a month before our big day, a huge weight was lifted from our shoulders and that's putting it lightly.We never felt uncomfortable reaching out to her with any questions or concerns and she always went the extra mile to keep us in the loop and give us reminders.The day of our wedding was completely seamless.We had no worries in the world.Jasmine really is the best and we cannot thank her enough!
Jasmine was above and beyond everything we could have imagined or hoped for in a wedding planner. She is the gift that we never fully knew how much we needed on the day, until she was there and graciously stepped into every little piece of our wedding! She was immensely calm, intensely organized, completely attentive to every single little detail,and a very strong communicator when interacting and managing other vendors. We were so blessed by Jasmine's presence in our day. We had multiple family members and friends approach us on the day and after, expressing how strong (and lovely!) Jasmine is. Our wedding day wouldn't have been what it was without her!
"There are too many good things I have to say about Jasmine. She killlllled it for our wedding, absolutely phenomenal. She helped us with both design, vendor management and day of organization and I can truly say we were able to be guests at our own wedding because of her. She's smart, professional, well known and respected in the industry, and maintains a calm and confident approach to her trade. She was flexible, helped us with things outside of the wedding (gift boxes, seating charts, table cards etc). Just a super cool woman with a load of experience that's hard to find.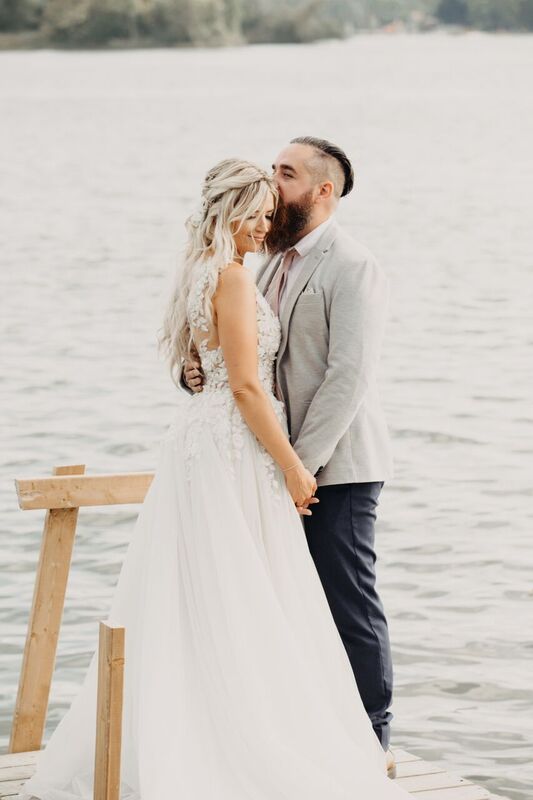 Jasmine not only helped find vendors for the wedding, but she also saved us a ton by negotiating prices and providing decor. The best part was she was able to run the entire day for us, including paying all the vendors and helping everything go seamlessly all day long. The day would not have been the same without her!
Our wedding was gorgeous, months later we are still getting so many comments about how fun and gorgeous our wedding was. We can't count the number of times we said "ahh so glad we have Jasmine" during the wedding planning process. She was truly so caring and thoughtful with every element. We ended up with a bridal magazine type wedding but without the cookie cutter cliches and lots of our own personality being the centre. The day ran so smoothly and we can honestly only attribute that to her. There was lots of time for impromptu and spontaneous couple time to really feel there for each other as well as our guests. She made sure we had plenty of time for everything and we never ever felt that "rushed" feeling that so many other couples have talked about. I don't think we could have properly enjoyed and savoured one of the most important days of our lives without her.
Honestly, having her month of coordination package was one of the best decisions we made in regards to our wedding! Jasmine and team were extremely knowledgeable about the industry and vendors, thought a few steps ahead when it came to some details, took care of some of the extras for us and even tried to make our dream of having a mobile coffee bar at our brunch wedding happen (it didn't unfortunately, due to reasons out of everyone's control, but the effort was definitely there on their part). They were easy to work alongside, professional and took every step in stride. The day itself was much more enjoyable knowing we had Abby and Danielle there to take care of anything that came up. I would recommend them to anyone looking–or not looking, as in my case–for a wedding coordinator!
Jasmine is amazing. I originally wasn't planning on having a wedding planner and now I cannot imagine how my day would have been without her there! She's so insanely talented and is amazing at making your vision her vision and seeing it through to the end. I'm not much of a details person, so it was incredible to me that I would mention one or two ideas/thoughts i had about how something could get done, and then Jas just makes it happen. I had no stress dealing with contracts/details of the wedding knowing that Jasmine has done this before and seen dozens and dozens of these contracts and could tell me what to expect. Hiring Jasmine was honestly the best decision I made for my wedding day (aside from marrying my husband of course), and I felt zero stress the entire day knowing that she was there and would handle anything and everything. It was an incredible thing to get to just be present and enjoy my wedding day, I will wholeheartedly recommend Jasmine to everyone and anyone!
Jasmine was incredible! I don't know what we would have done without her...from our very first meeting, Jasmine helped us transform our vision into actionable steps - no detail, big or small, was overlooked. She was quick to respond to any questions or concerns we had, and ALWAYS had a solution (my only regret is not asking for her advice more frequently!). She was incredibly detailed and organized so that Jason and I knew exactly what to expect on the day! On the day of our wedding, Jasmine went above and beyond to ensure our day was seamless and that my partner and I were stress free. She met with our vendors to ensure they were prepared and organized for the night, assisted my florist in setting up the venue, and drove back and forth between Guelph and Elora to pick up things we forgot at our apartment! She was a magician behind the scenes...Jason and I truly felt like guests at the wedding, it was wonderful :)
She could not have been more perfect. Professional, thoughtful, organized, with incredible attention to detail. I would recommend her a million times over!
Jasmine is outstanding! She was able to bring every aspect of my vision to life for my wedding day. She's organized, she listens and her attention to detail ensures that you will have quite the picturesque experience. I'm so grateful that I found her. She's the best!
We loved partnering with Jasmine and All That Jaz! We got in touch with Jasmine pretty early on in the wedding planning process, and the minute we sat down at our meeting to go over requirements and wish-lists, we knew we made the right decision to partner with her! Jasmine has the expertise and connections to make your wedding planning process and the wedding itself as smooth as possible. My fiancée and I were still pretty involved in a lot of the decision making, but Jasmine's guidance and close partnering with vendors helped release a lot of the anxiety that people often associate with wedding planning. Our 7-month engagement journey couldn't have gone smoother. The day of the wedding went with no hiccups - Jasmine took care of all of the details, so that we could enjoy the day with no worries! If you're planning a wedding, we highly recommend All That Jaz!
From start to finish, almost 2 years of planning, Jasmine was absolutely amazing. She went above and beyond to make the day perfect and everything we pictured and more. Jasmine has many contacts in the wedding industry that made it very easy for us to find all and everything we needed. Jasmine's attention to detail is phenomenal. I had plenty of guests approach me at my wedding and compliment Jasmine on her professionalism and how she made our venue stunning. Our son was 18 months when we got married and was the ring bearer. Jasmine was patient and worked great with our son, which made the ceremony perfect.
It's crazy to say, but looking back on our wedding day; we wouldn't change one single thing and we had no worries at all --and we have Jasmine to thank for that.
We decided to bring on a wedding planner a little bit later in the wedding process and it was by far the best decision we made. From the first contact until the very end (even now) Jasmine was so professional, attentive, kind and understanding. She was always reachable and always made it feel like our wedding was number one. I was pretty particular about what I wanted and how I envisioned the day. Jasmine listened to everything and took it to another level. Sheexceeded my expectations on every front. Her execution of our decor is exactly what we had envisioned and she took care of EVERYTHING the day of. We had the most perfect wedding experience and day and we owe a lot of that to Jasmine. I would HIGHLY recommend All That Jaz Weddings.
Jasmine is wonderful. She is an amazing wedding coordinator. She is organized, professional and thinks quickly on her feet. Jasmine handled it all! When our ceremony was supposed to start it down poured rain. Jasmine and her assistant made sure everything was protected and covered. She also made sure all the guests were ok waiting out the storm in the tent. After the storm passed Jasmine and her assistant moved everything back outside and wiped down all the seats. Without Jasmine we would never have been able to have our dream wedding outside. We had many of our guests throughout the night mention how amazing out wedding coordinator was and we agree. I am sure there are a lot of things Jasmine handled without us even knowing they were a problem. Jasmine was everything we needed.
We hired Jasmine to assist with the month-of-coordination and also to assist with certain vendor selection and venue design. We would HIGHLY recommend Jasmine, and can't imagine our wedding day without the amazing help that her and her team provided. Jasmine is incredibly knowledgeable, professional, honest, hard working, and organized. Jasmine is clearly well connected in the industry and was able to provide us several options for vendors that were in our price range. She made a point to ensure that we reach out with any concerns/questions, and had a way of instilling a sense of calmness, despite the magnitude of the planning process. She was very well organized during the weeks leading up to the wedding, clearly tracking the items that remained outstanding. We never felt like we were in the dark on anything. On the wedding day, we were frankly shocked by how little we (or other family members) had to do. She had every minor detail under control, and handled all glitches with the wedding venue quickly and professionally.